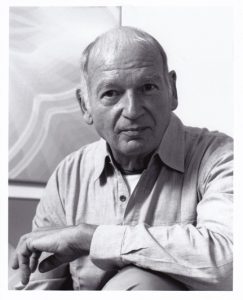 Markus Jenzer was born in 1926 in Bern, where he spent a large part of his life. Initially a businessman with artistic inclinations, from 1964 he trained systematically to become a painter. Inspired by Impressionism, at first he devoted himself mainly to landscape painting. From the early 70s onwards he worked as a full-time artist. His paintings were met with great interest at numerous solo exhibitions in the 70s and 80s.
At the same time, a change began to take place in his work. In numerous experiments he immersed himself in the microscopic world of the brushstroke and colour structures using macrophotography and with this discovery returned to the big canvas. Works from this period were on show in 1978 at Art Basel, among other times. At the same time he created further landscapes which were shown in separate exhibitions.
In the course of two decades his artistic style developed from non-representational to symmetrical. In the years 1992-2011 Markus Jenzer and his wife lived near Lake Geneva, where he created a large number of the symmetrical works to which he now devotes himself exclusively.
The meditative nature of these pictures and their meticulous preparation required a high degree of concentration and a certain seclusion. So far only a small part of his extensive late work has been made available to the public.